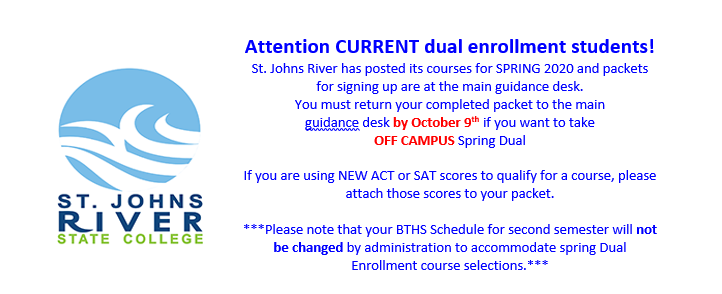 ~~~~~~~~~~~~~~~~~~~~~~~~~~~~~~~~~~~~~~~~~~~
DUAL ENROLLMENT INFO
Dual Enrollment is offered
on campus at Bartram Trail (SJRSC) and
off campus at St. Johns River State College (SJRSC)


and through
First Coast Technical College (FCTC)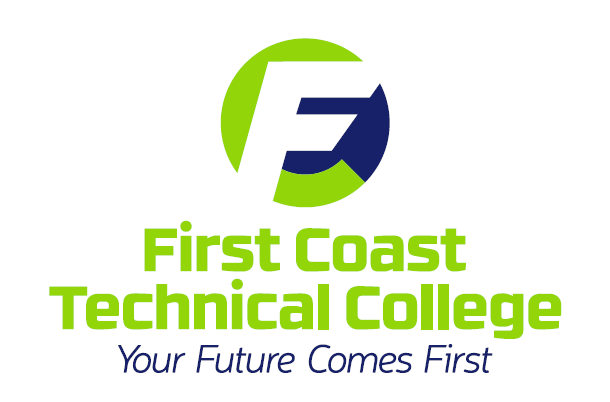 Dual Enrollment provides eligible accelerated high school students the opportunity to simultaneously earn college credit while earning credit toward a high school diploma.
~~~~~~~~~~~~~~~~~~~~~~~~~~~~~~~~~~~~~~~~~~~



Please review the following documents if you are interested in dual enrollment
with St. Johns River State College.
PLEASE READ > Dual Enrollment Info

Fall 2019 Dual Enrollment Reminders
   St. Johns County Dual Enrollment Students

 LOGIN and learn:  If you have not already logged into "MySJRstate", go to http://sjrstate.edu and click on "MySJRstate".  Select "FIRST TIME USER ACCEPTANCE POLICY". Enter the information required and click on "Login". As soon as you see the next screen, STOP – your official Login ID will be on this screen –Follow the prompts.
Need help with "MySJRstate"?  Call IT help line 386-312-4142 or Dual Enrollment at 1-386-312-4136 or email [email protected]
Your High School's Dual Enrollment Counselor MUST approve, sign/initial all applications, registrations and/or changes before submission to the Dual Enrollment Department. Home School and Private School students are required to obtain the approval of their school counselor/parent, also.
READ your SJR State schedule and make sure you understand it and it is to your satisfaction PRIOR to the beginning of each semester.
Fall classes start on either Monday, August 20, OR Monday, October 15, for three sessions of different lengths.  Fall sessions will end on either October 10 OR December 7, depending on what course you take.
If you need to DROP a class, do it by Aug 22, Aug 24, or Oct 17, the date for your specific class.
Term
Start Date
End Date

Add/Drop

(schedule change)

Withdrawal with a "W"
Total Weeks
Fall Term
8/20/18
12/7/18
8/24/18
11/02/18
14
Fall A
8/20/18
10/10/18
8/22/18
9/26/18
7
Fall B
10/15/18
12/7/18
10/17/18
11/19/18
7
If you drop a class after its specific add/drop date above, in bold, you will receive a "W" which may make you ineligible for dual enrollment during all future semesters.  You will be able to continue in the rest of your dual enrollment courses until the current semester is over.  Be sure to know your specific date to drop or withdraw.
KNOW YOUR SCHEDULE – if you do not attend class, the instructor can give you an "F" or a "withdrawal". IT'S YOUR RESPONSIBILITY.
Dual Enrollment students MUST have an SJR State parking permit.  Log into your "MySJRstate" account, select"Request Parking Decal" on Student tab, complete permit, print, sign, and submit to Security to obtain a decal.
FOR ALL SCHEDULES: The College does not identify students with disabilities, therefore, it is necessary to self-identify. Contact the disability coordinator at your SJR State campus to schedule an appointment. The disability coordinator will talk to you about your personal experience with the disability, past use of accommodations and strategies and technologies used. On our St. Augustine Campus call (904) 808-7402.
Public School Students – Textbooks:  Dual Enrollment textbooks are checked out (loaned) to SJCSD students through the Media Services Department located at 10 Hildreth Drive in St. Augustine. The phone number is 904-547-3947.  Students may pick up books for the FALL SEMESTER beginning Monday, August 13, 2018.  Textbooks will only be issued weekdays between the hours of 8:00 a.m. – 3:00 p.m. (excluding holidays).
YOU MUST BRING YOUR ID, A PRINTED COPY OF YOUR SCHEDULE AS PROOF OF ENROLLMENT AND SIGN THE DISTRICT'S TEXTBOOK CHECKOUT AGREEMENT FORM TO RECEIVE BOOKS AND OTHER MATERIALS.
All Dual Enrollment Textbooks issued for the FALL SEMESTER must be returned to the Fullerwood Center at 10 Hildreth Drive no later than December 10, 2018. Textbooks MUST be returned on time to avoid the $10 per book, per day latefee (per signed checkout agreement) and prior to any additional textbooks being issued.  NO EXCEPTIONS. You are welcome to return the books early if you wish.
EVERYONE – VERIFY ACCESS CODES!
HOMESCHOOLED STUDENTS – Textbooks for the Fall term must be picked up August 16, 17, or 18 at one of the three St. Johns River State College's campus bookstores. You will need to bring a printed copy of your fall schedule. All books will be due back to the bookstore no later than December 10, 2018.
Private and Florida Virtual students – You must purchase your books at the SJR State Bookstore.
Dual Enrollment General Instructions & Fact Sheet
Eligibility
High school juniors and seniors may be eligible for the St. Johns River State College (SJR State) dual enrollment program if they:
1) have a minimum high school grade point average of 3.0 unweighted,
2) have a complete set (English, Reading, Math) of college readiness scores via SAT, ACT, PERT, and/or CPT,
3) and submit a complete and accurate dual enrollment application by the published deadline.
Apply Each Term
A new dual enrollment application must be submitted by the published deadline for each term the student would like to participate in dual enrollment. The criteria for high school GPA must be met each term. Students must maintain a minimum college GPA once enrolled in the dual enrollment program or they will not be permitted to continue for additional terms.
Maximum Number of Courses:  Students are permitted to enroll in a MAXIMUM of three courses for each term in fall and spring. If a student is participating in a BTHS dual enrollment course, this is counted in the total maximum. Early admissions students may take up to 15 credit hours per term in fall and spring.
Minimum scores are required for most college courses:
ENGLISH COMP 1 (ENC 1101) *ENGLISH CREDIT
ACT
Reading – 19
English – 17
SAT
Reading – 24
Writing & Language – 25
CPT
Reading – 83
Sentence Skills – 83
PERT
Reading – 106
Writing – 103
MATH INTERMEDIATE ALGEBRA (MAT 1033) *ELECTIVE CREDIT
ACT
Math– 19
SAT
Math – 24
CPT
Reading – 72
PERT
Reading – 114
MATH COLLEGE ALGEBRA (MAC 1105) *MATH CREDIT
ACT
Math– 21
SAT
Math – 25
CPT
Elementary Algebra – 85
PERT
Math – 123
Registration
To register for dual enrollment courses at the SJR State campus, students must complete a "Dual Enrollment Packet" and turn the completed documents in to the BTHS guidance desk by the published deadline. The packet includes 1) Admissions form, 2) Principles of Participation form, and 3) Registration/Approval form.
The dual enrollment application students complete for the BTHS campus business academy course(s), the American History course(s), or the English and Writing course(s) CANNOT also be used to register for SJR State campus course(s). A separate dual enrollment packet will need to be completed for any course(s) taken at a SJR State campus and turned in to the BTHS guidance desk by the published deadline. The three course maximum applies regardless of what campus(es) a student enrolls at to complete dual enrollment courses.
Make sure forms are thoroughly filled out, including a correct and legible email address that you monitor regularly, parent & student signatures, and course section numbers and titles. The back of the "Dual Enrollment Admissions Form" requires an emergency contact that cannot be the same address where the student lives. Attach the PDF printout of your written score reports from your ACT/SAT/PERT to your application. A PDF download of your SAT and/or ACT scores can be found via your online CollegeBoard and/or ACT account. The document must contain your first and last names.
Notice About Deadlines
Dual enrollment program deadlines are not negotiable. Students must meet the deadlines for Registration, DROP/ADD, Withdrawal, and all other deadlines published by SJR State and Bartram Trail High School. Failure to meet the deadlines means the student will forfeit the opportunity to participate and/or make adjustments within the dual enrollment program term.
SJR State Calendar
The SJR State calendar does not necessarily follow the St. Johns County Public Schools calendar. It is important for students to plan to participate in all dual enrollment course requirements according to the SJR State calendar. It is published on the SJR State website.
 Tracking your Account
Once you are confirmed as a dual enrollment student it is your responsibility to log into "MySJRState" on a regular basis to monitor your class status, grades, classes, deadlines, and policy guidelines. You can set up your account by going to http://sjrstate.edu and clicking on "MySJRstate." The first time you log on, click on the user acceptance policy agreement to get your SJR State ID. Online courses can be accessed under the "MyCourses" tab in "MySJRstate." If you have any questions about "MySJRstate" please call 1-888-757-2293 or access the web help link.
Course Schedule
When selecting college campus courses, please keep the following in mind:
Which SJR State Campus is offering that specific section of the course?
What time of day/evening is the course?
Will you have enough time to drive to/from your high school campus for the course?
Your BTHS high school courses must be taken in consecutive class periods. You may NOT drive to-from-to the BTHS campus to participate in dual enrollment.
If you are an athlete or involved in activities that may take you away for meets or events during the week, can you still attend every dual enrollment course session? If no, don't sign up!
 College and High School Credit Values
When picking dual enrollment courses, it is important that students understand that the credit value of each course is determined by the State of Florida. A completed dual enrollment course will have a predetermined credit value in the State University and Community College system and a predetermined high school credit value. Most dual enrollment courses earn students .5 high school credit or 1.0 high school credit. This information is posted in the Department of Education Dual Enrollment Course Equivalency List, and it is updated annually on the Department of Education website. The dual enrollment Course Equivalency List is also posted in PDF format on the BTHS web site. Please review this information and contact your BTHS school counselor with any questions. Dual Enrollment Equivalency List 2018-2019
Parking
Every student who attends a class on a SJR State campus must have a parking decal. Decals are free for dual enrollment students.  You may obtain your decal by requesting it online via the dual enrollment webpage or in person by visiting the SJR State Administration Office.
Textbooks
Textbooks and course materials are free for dual enrollment students. However, some courses have lab fees and/or access code fees that will be paid for by the student. Books for all college campus and online courses should be picked up at the Fullerwood Center, 10 Hildreth Drive, St. Augustine, Florida 32084.  (St. Johns County School District Media Room). **You must have a SJR State schedule printed out from your MySJRState account and present it at the Fullerwood Center in order to pick up books. PLEASE NOTE: Only courses being held at Bartram Trail will have textbooks available for pickup at BTHS. All textbooks for courses taken at the SJR State campus or online must be picked up at the media center (rear entrance) of the Fullerwood Center.
SJR State College Dual Enrollment Office
Email:  [email protected]                      Phone: (386) 312-4136
Fullerwood Center phone number: 904-547-3947
Fullerwood Center regular school year hours:  Monday – Friday from 8:30 am to 4:30 pm
Fullerwood Center summer hours: Monday – Friday from 7:00 am to 3:00 pm
~~~~~~~~~~~~~~~~~~~~~~~~~~~~~~~~~~~~~~~~~~~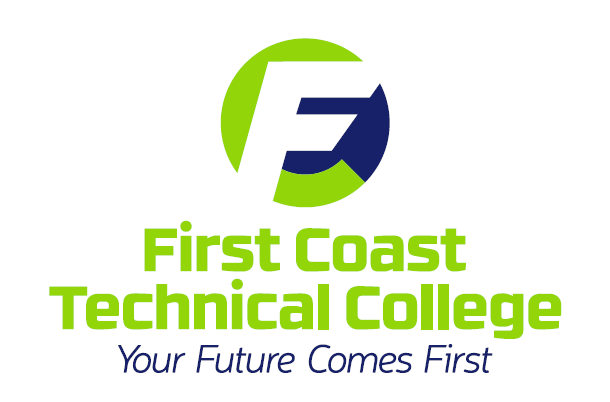 Please review the following documents if you are interested
in dual enrollment with First Coast Technical College.
FCTC Dual Enrollment-FAQ sheet
Secondary Program Application:
Registration Form
Course Availability