NEW!  Important Info about Community Service Hrs
PLEASE READ below! 
Due to changes in state statute, students must now submit a volunteer service plan for their Bright Futures Community Service Hours to be approved. This plan will be required for any Bright Futures Community Service Hours completed on or after August 16, 2021.
St. Johns County School District students will fulfill this requirement by completing the SJCSD Bright Futures Community Service Form (see form below) and submitting it to Ms. Richards in the main guidance office. This form is also required for any club or school activities for which the student is submitting hours.
For students submitting hours from a non-profit organization outside of the school, students must also submit a letter on the non-profit organization's letterhead which details the student's service hours, activities, dates and supervisor signature.  Students should staple together this organization letter to the Community Service Form before submitting to Ms. Richards in Guidance.
Students not completing the Volunteer Service Plan or completing activities that are not in accordance with St. Johns County Service Hours Guidelines, per the St. Johns County School District Bright Futures Community Service Hours Form, will not have those hours added to their transcript for the Bright Futures Scholarship, but students can add those hours to their resume for college/job/internship applications or other scholarships.
If the student is unsure whether the service activity meets St. Johns County School District requirements, the student should check with their school counselor or Ms. Richards before completing the hours.  School counselors have open office hours during lunch.
Click here for the  Volunteer Service Plan Form
FYI – From the district office…."Donations and the donation form that was used in the 20-21 school year will no longer be accepted for service hours.  This was a temporary provision when no in-person volunteer opportunities were available for students."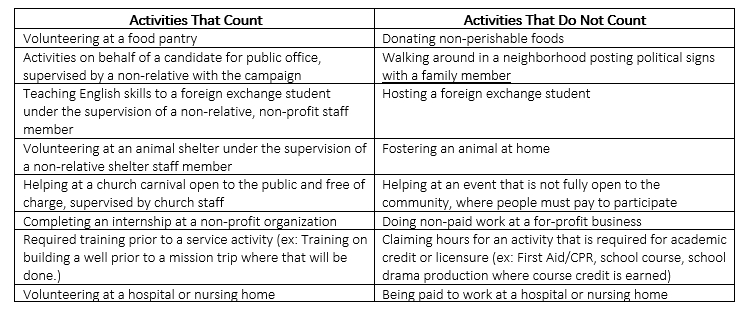 Submitting Community Service Hours
Steps for Students to Complete Prior to Volunteering
Determine an area/topic in the community where you would like to make an impact.
Research the types of volunteer activities available in your community. The district community service website lists local opportunities and community service guidelines for St. Johns County School District: https://www.stjohns.k12.fl.us/guidance/community-service/
MAKE SURE the organization is a not for profit by searching by the name here –  https://search.sunbiz.org/Inquiry/CorporationSearch/ByName
Contact the organization you are interested in volunteering with and determine 1) the steps to become a volunteer, 2) if they have volunteer openings for the dates/activities you are interested in, 3) who the contact will be to verify your hours and participation in the activity. Note: Supervisor must be non-family member with organization who directly supervises the student during the activity outside of the home. If you have a question regarding whether the service activity is acceptable or not, reach out to your school counselor or school community service hours designee.
Steps for Students to Complete During Volunteering
Keep track of hours, dates, & activities completed during service to verify with whoever supervises you during your community service.
Steps for Students to Complete After Volunteering
Have the supervisor of your service provide a signed letter on the organization's letterhead describing the type of service performed, amount of service hours, who in the community the service benefited, and a description of the service event.
Student and parent/guardian should sign this letter
Make a copy of all completed forms for your records.
Student provides letterhead and Bright Futures Community Service Hours Form to Mrs. Richards in the main guidance office.

Need ideas for earning Community Service Hours?
Check out the links below!
Care Connect Volunteers
Click on "Attention Student! Find volunteer opportunities for teenagers"
Care Connect Food Delivery Volunteers
Small Lives Matter Kitten Rescue
if volunteering happens at the shelter
Virtual Service Hours Opportunities
https://dos.myflorida.com/sunbiz/search/