New to Bartram Trail High School?
Sign up for a registration appointment.  Contact Ms. Kathleen Richards if you have any questions at [email protected]. Please also see the paperwork below to help assist your transition to Bear Nation!
CLICK HERE>> for more information about registration.
2020-2021 Class Registration
August 14 – 17: Schedule Preview
August 31: First Day of School!
BTHS Website Header Design Credit: Digital Design 2 Students: Jaden A, Daniel T, Meghan J, Phoebe T, & Victoria V.
"BTHS serves as a center for academic excellence, community involvement and character development, while fostering a joy for lifelong learning."
ELA Textbook Adoption Committee Opportunity
During the fall of 2020, St. Johns County Schools will be participating in the process of textbook adoption for English Language Arts. We are in need of non-instructional members (i.e., parents, community members) for the textbook adoption committee. Committee members will have the opportunity to review a variety of ELA instructional resources and provide valuable feedback. This process will be completed in mid-December, all meetings will be virtual, and every effort will be made to minimize your time commitment. If you are interested in being considered for this opportunity, please contact your school's Instructional Literacy Coach.
ESE Parent Advisory Meetings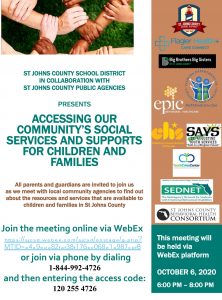 On October 6th from 6:00pm to 8:00pm, the ESE Parent Advisory will welcome the St. Johns Behavioral Health Consortium for a virtual discussion titled "Accessing Our Community's Social Services & Supports for Children and Families in 2020/2021." Join the meeting online via WebEx or join via phone by dialing 1-844-992-4726 and then entering the access code: 120 255 4726.
This is just a reminder that anyone (parent, guardian, friend, neighbor, aunt, uncle) must have school access to attend an event at Bartram Trail High School, have lunch with a student and/or attend an awards assembly. If you have not already done so, please complete the School Access Form. The process for approval may take up to 4 weeks, so please fill out the application sooner than later for any guests that would like to have school access. Once the application is approved, school access will be valid for three years.
FortifyFL is a website and app developed at the direction of the Florida Legislature. Any student, educator, parent or member of the public can report school safety concerns directly to law enforcement and school administrators anonymously and easily through the FortifyFL app or getfortifyfl.com.