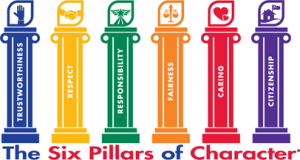 Here at Bartram, we encourage students to follow the Bear Standards and ROAR:
Bear Standards
Be On Time
Be Prepared
Be Respectful
Give Your Best Effort
Respect all
Own their actions
Advocate
Reach their highest potential
These expectations were founded within the six pillars of character counts: trustworthiness, respect, responsibility, fairness, caring, and citizenship. We have embedded these pillars deep into our school's culture.
As you walk our campus, you will see visual representation of our initiatives in hallways and all classrooms.
We have implemented a PAWsitive referral system in which staff can nominate students for showcasing the pillars of character. Nominated students receive a card with an encouraging note of gratitude from the nominator and can bring this card to redeem a reward during lunch. Special thanks to The Players and CHARACTER COUNTS! of St. Johns County for sponsoring this program!
Every club on campus adopts a character counts goal to focus on, in addition to their various planned service projects and community activities throughout the year.
New this year are our connect clubs and sports. Within every connect organization are student leaders who are professionally trained through workshops to be inclusive and welcoming of all students. Connect clubs and sports teams are recognized on our website with the puzzle piece logo.
If you would like more information on our character counts initiatives, or would like to get involved, please contact Shannon Murray.