Welcome Senior Class of 2023!
Class Officer Instagram Page:
We encourage students to join the Senior Class Officer Instagram page @BTCO23. They will post lots of information regarding student events and opportunities there!
August 12th Class Meeting: 
The class of 2023 had a brief meeting and were given graduation regalia information. Orders can be placed at hjjax.com. Herff Jones representatives will also be on the BTHS campus during lunches on Thursday, August 18th and Thursday, August 25th to take orders and answer questions. Graduation items are discounted until October 1st. Final deadline to place your order is December 31st.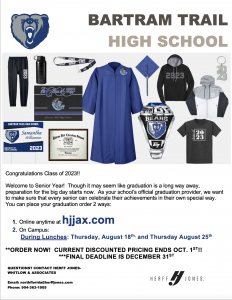 Parking Spot Painting:
If you are interested in painting your parking spot, please join the Class Officer Instagram page and watch for some polls. We are hoping there is enough interest to have this event this year!
Senior Class Tailgate:
Save the date! September 23rd beginning at 5pm. Seniors, join us in the parking lot near the stadium for yard games and more. More details to come.
Senior Class Breakfast: 
Save (another) date! October 21st beginning at 8:00am. Seniors, join us in the Small Cafeteria for the Annual Senior Class Breakfast. More details to come.
Senior Yearbook Portraits:
The yearbook portrait must be taken at Cady Studios. The portrait sitting fee is $30 and the deadline is October 15th in order to have the photo in the yearbook.
Transcripts:
Seniors can request transcripts via Parchment. We use this service to deliver records to colleges as well as for our students to view their record.
Electronic transcript requests remain free of charge through July of graduation year.
All seniors planning to attend a post-secondary school should place a request to send their final transcript by June.
Graduation:
Hot off the press! SJCSD & UNF have informed the BTHS Administration that the BTHS Class of 2023 will graduate on Saturday May 20, 2023 at 3:00 p.m. We DO NOT know how many tickets each graduate will receive yet. We also, do not yet have our date for graduation rehearsal.
Senior Class Sponsors:
Ms. Gregory, located in office 123, across from the Main Copy Room
Ms. Hastings, located in office 123, across from the Main Copy Room
Ms. Keating, located in room 720 (please do not interrupt her classes)
Senior Class Colors: Blue, Black, & Silver

Class Quote: TBA
Class Song: Home, by Phillip Phillips
Class Flower: Sunflower
Senior Class Officers:
| | |
| --- | --- |
| Title | Name |
| C/O 2023 President | Gabby Chicerelli |
| C/O 2023 Vice President | Davis Houk |
| C/O 2023 Secretary | Brady Greenwald |
| C/O 2023 Treasurer | Reese Henley |
| C/O 2023 Historian | Olivia Bori |