Welcome Senior Class of 2023!
Class Officer Instagram Page:
We encourage students to join the Senior Class Officer Instagram page @BTCO23. They will post lots of information regarding student events and opportunities there!
Senior Shout-Outs:
The Senior Class Officers are creating a slideshow to stream at UNF before and after graduation. The slides will also be posted on the @BTCO23 Instagram page. Seniors are invited and encouraged to make a slide to share their plans for next year. Use Canva to create your slide, and email it to [email protected] Reach out to any of your class officers with questions!
Yard Signs:
It's time to celebrate the Class of 2023! Customizable Bartram Trail High School Graduate yard signs can be ordered from Herff Jones here.
Senior Dues:
Senior dues ($65 per student) are used to cover costs associated with Senior year, and graduation. Dues can be paid via SchoolPay. The Class Officers will be in the courtyard during all lunches on Wednesday, February 8th to distribute Senior t-shirts to anyone who has paid dues, but not picked up their shirt.
Cap & Gown Orders: 
 Orders can be placed at hjjax.com.  All orders should be placed by this time. Reach out to Herff Jones directly if you have not yet purchased your student's cap and gown.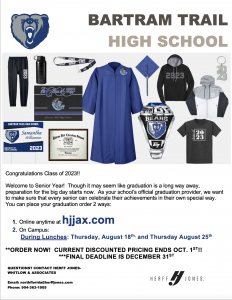 Graduation Announcement Delivery:
March 8th, 2023. Herff Jones will be at BTHS on March 8th to deliver Graduation Announcements. Seniors who placed an order, should come to the 9th Grade Center Lobby during their lunch to pick-up their box of announcements. **FOR THOSE WHO MISSED THE DELIVERY DAY**- Herff Jones have the graduation announcements at their office in Jacksonville. Students/parents are welcome to pick them up there or wait until March 23rd, when Herff Jones will bring the remaining announcements to our Senior Class Meeting at BTHS.
Senior Sunrise and Class Meeting:
March 23rd (Rain Date: March 24th), 7:00 AM.
Enjoy pancakes, cooked by your Class Officers in the stadium and watch the sunrise at BTHS.
We will have High School Musical 3 on the big screen, as well as yard games. Bring blankets, lawn chairs, and some water or coffee.
Following the sunrise breakfast and movie, we will have a Class Meeting (beginning at 9:20 a.m.).
 Cap/Gown Delivery: 
April 19th and 20th. Herff Jones will be at BTHS on April 19th and 20th to deliver graduation regalia during lunches. Seniors will come to the 9th Grade Center Lobby during their lunch to pick-up their cap and gown.
Parking Spot Cover-Up Event: 
For students who painted their parking spot, we will hold a cover-up event on Wednesday, April 19th as soon as the afternoon traffic is off campus. Plan on beginning around 3:05 PM, all cover-up supplies are provided by the Senior Class. Make sure you have some water, it will likely be hot outside. It should take less than one hour for the cover-up event. Reminder, there is a $50 fine if one of your Senior Officers or Sponsors have to cover your spot.
Prom:
Prom will be held on Saturday, April 22, 2023 at the World Golf Village Renaissance Resort Ballroom. Please note, prom is organized by the Junior Class. As more details are announced, we will share them here as well.
Grad Bash: SOLD OUT, CLICK SCHOOLPAY LINK BELOW AND COMPLETE WAIT LIST FORM.
April 28th- 29th; Buses will leave after school (around 5:00 p.m.), and return the morning of April 29th, around 5:00 a.m.
Cost is $130, which covers admission to both Universal Studios and Islands of Adventure, school bus transportation (one student/seat), and a Publix boxed meal.
Publix meal will include a sub, chips, cookies, and drink.
The SchoolPay link will open on Thursday, February 16th at 9:00 a.m. SchoolPay Link for Grad Bash. 
Once paid, print and complete the Permission Form.
Bring your PRINTED SchoolPay receipt and completed Permission Form to Room 720 by February, 24th to pick your bus!
BTHS receives a limited number of admission tickets from Grad Bash, we expect to sell out quickly.
*This is a special event, Annual Passes are not honored by Universal Studios/Islands of Adventure for entry into Grad Bash.
Baccalaureate:
Baccalaureate will be held on Thursday, May 18, 2023 at 6:30 p.m., at San Juan del Rio Catholic Church. This is a Class Officer organized event. Graduates who wish to participate should wear their graduation gown, but not cap. There will be an Educators Address by a BTHS faculty member, in addition messages from a SJdR priest and a pastor from another denomination.
Last Day for Class of 2023:
Last day of classes for Seniors is May 5, 2023. Final Exams will occur the following week.
Senior Exams:
Seniors will take Final Exams during the week of May 8, 2023-May 12, 2023.
Debt Days/Graduation Tickets:
Debt Days will occur May 16th & 17th. Seniors must return all BTHS property and be clear from any debts/fines to pick-up their graduation packet. Debt Day packets include five graduation

tickets

, academic cords, graduate medallions, immunization records, ceremony programs, graduate seating chart, and more.
The packet pick-up schedule is as follows:

Tuesday, May 16th, 9:30 AM-3:15 PM; Last Names that begin with A- M.
Wednesday, May 17th, 9:30 AM- 2:15 PM; Last Names that begin with N- Z (note end time of 2:15 this day due to Wednesday, Early Release traffic).
Thursday, May 18th, 7:45 AM-8:00 AM; Make-Ups. This is the final and only time to pick-up outside of the designated schedule. Packets will not be available for pick-up after this time or date.
Graduation Rehearsal: 
Graduation Rehearsal will occur at the University of North Florida Arena & Field House on Friday, May 19, 2023 at 10:00 A.M. Students must park in Lot 18, and should plan to be at UNF for an hour and a half. We will walk through everything the graduates need to know for the ceremony. Attendance at rehearsal is required for those participating in graduation.
Graduation:
The BTHS Class of 2023 will graduate on Saturday, May 20, 2023 at the University of North Florida arena. Graduation will take place at 3:00 p.m. UNF has informed us of updated guest seating capacity limits. Because of the size of the class, each graduate will receive 5 guest tickets in their Debt Day packet. Also, new this year, the venue staff will collect tickets at the point of entry. The graduation ceremony will be live-streamed as well. Click here for Graduation FAQs regarding parking, arrival time, tickets, bag policy, seat-saving, disability seating, prohibited items, and more. Graduation Cord and Stole information can be found here Cord Information 2023.
Suggested attire for graduates to wear under their academic gown: Dress pants or khakis, dark socks, shoes and a dress shirt with a tie; or a dress (or skirt with a blouse) with flats or wedges.
Graduates should avoid wearing jeans, shorts, sandals, or sneakers. High heels are not recommended for safety reasons.
Academic gown should fall midway between the knee and ankle. Remember to wear the BTHS graduate medallion provided in your Debt Day packet. Caps should be worn flat on the head. Tassels are worn on the right and shifted to the left after all graduates have received their diploma.
Transcripts:
Seniors can request transcripts via Parchment. We use this service to deliver records to colleges as well as for our students to view their record.
Electronic transcript requests remain free of charge through July of graduation year.
All seniors planning to attend a post-secondary school should place a request to send their final transcript by June.
Senior Class Sponsors:
Ms. Gregory, located in office 123, across from the Main Copy Room, [email protected]
Ms. Hastings, located in office 123, across from the Main Copy Room, [email protected]
Ms. Keating, located in room 720 (please do not interrupt her classes), [email protected]
Senior Class Colors: Blue, Black, & Silver

Class Quote: "Chase your dreams but always know the road that'll lead you home again." – Tim McGraw
Class Song: "Home" – Phillip Phillips
Class Flower: Sunflower
Senior Class Officers:
| | |
| --- | --- |
| Title | Name |
| President | Gabby Chicerelli |
| Vice President | Davis Houk |
| Secretary | Brady Greenwald |
| Treasurer | Reese Henley |
| Historian | Olivia Bori |