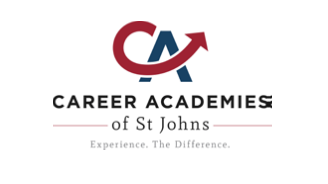 Spring 2019 ~ ACADEMY REGISTRATION TIMELINE

Application submission deadline for students currently enrolled in a St. Johns County public school: February 19, 2019, by 5:00 p.m.
Timeline:
Now
Watch the video from each high school on the Career & Technical Education (CTE) of St. Johns County website.
January 24
High School Showcase at World Golf Village Convention Center from 3:30 – 7:00 p.m.
January 22 – February 6
Academy Nights (see schedule below)
January 24 through February 19
APPLY through the STUDENT's HAC ACCOUNT (Home Access Center)
February 15
Auditions for those applying to the St. Johns County Center for the Arts AUDITIONS at
St. Augustine High School.  Audition information can be found at http://www.sjcca.org
*******************************************************************************************
High School Showcase
All parents and students are invited to attend the annual High School Showcase on Thursday, January 24, 2019 at the World Golf Village Convention Center from 3:30 – 7:00 p.m. Learn about the high school Programs of Choice and meet representatives from each high school.
Academy Nights
Each high school will host an informational 2019 Academy Night. All parents interested in attending one of the academies should make plans to attend these events. Each Academy Night will begin at 6:00 p.m., except for St. Johns Technical High School which will begin at 5:30 p.m.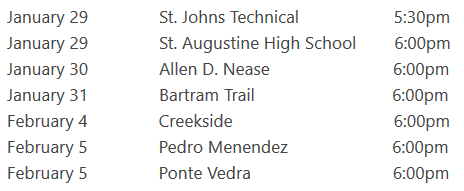 Note:
Bus transportation is only provided to ZONED schools and St. Johns Technical High School (SJTHS).  If attending a high school other than your zoned school or SJTHS, transportation must be provided by the family.
Online Applications through the student's Home Access Center account are necessary for: Career Academies, Junior ROTC, Academic Acceleration Programs – IB, AICE & St. Johns County Center of the Arts.