Time Table for Initial Eligibility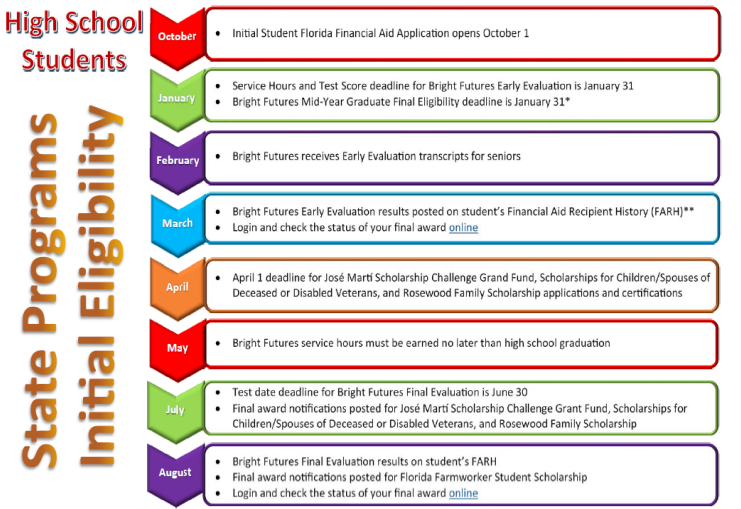 See the links below for more information:
Bright Futures Workshop
OSFA – Bright Futures Information
OSFA – Financial Aid Overview PowerPoint
Bright Futures Handout 2021-2022
Bright Futures Handbook Chapter 1 – Eligibility
Bright Futures Handbook Chapter 2 – Now That You Are Eligible
Bright Futures Initial Eligibility PowerPoint
Navigating Your Financial Future – Dec-Jan
2022-23 Financial Aid Quick Reference
Bright Futures Evaluation Key
Community Service Information



Important Information:
The Bright Futures Application for the Class of 2022 will open on October 1, 2021. Your application must be completed before graduation!

All students (especially seniors!) should monitor their "Bright Futures GPA" and eligibility status frequently. It is important to know if you meet the requirements or if you need to do extra work this year! Access the Florida Shines to monitor your Bright Futures status.

Some Points For Parents and Students Regarding Bright Futures:
EVERY Senior should apply for Bright Futures starting 10/1/21

The application must be done during Senior year, prior to graduation

You only apply one time, it takes about 10 minutes, and you are done!
After you apply, a User ID and PIN will be e-mailed to you. Save this information and use it to check the status of your application.
Don't wait to apply because your application automatically gets updated as test scores and grades come in.

You can use your award for up to

five years

after you graduate high school or leave the military, but you must apply before graduation!

The only information you need is basic demographic information (name, address, etc.)

It is a very simple and worthwhile process and we will help any student navigate the application.