BTHS Website Header Photo/Design Credit: Charis L. (Digital Design 3 Student)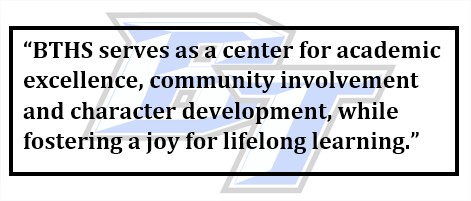 ---
Let your voice be heard!  Participate in the annual SAC survey.  Click on the appropriate link below:
– Survey for Parents
– Survey for Students
---
Course registration for the 2016 – 2017 school year is quickly approaching. To help assist you with the course registration process, please utilize the resources below:
– CLICK HERE>> 2016-2017 Registration Presentation
– CLICK HERE>> 2016-2017 Registration Schedule
– CLICK HERE>> 2016-2017 BTHS Course Catalog
– CLICK HERE>> 2016-2017 Course Progressions
– CLICK HERE>> 2016-2017 Course Elective Worksheet
– CLICK HERE>> 2016-2017 Freshmen Course Elective Worksheet
– CLICK HERE>> 2016-2017 Voluntary Public Service Application (Rising Seniors)
– CLICK HERE>> 2016-2017 CO-OP Application (Rising Seniors/Juniors)
– CLICK HERE>> 2016-2017 Modified Schedule Waiver (Rising Seniors/Juniors)
– CLICK HERE>> 2016-2017 Academy Application Directions

---
Student volunteers are needed to represent BTHS at the Character Counts! Race at Palencia Elementary School on Saturday, February 6th. Volunteers are needed from 7:45-10:30 a.m. to assist with cheering on runners, serving refreshments, and clean-up. Students will earn service hours from SJCSD for this event. Interested students should sign up in guidance.
——————-
MARY POPPINS – BTHS SPRING MUSICAL (Press Release)
——————-
2015-2016 Testing Calendar

Seniors! Class of 2016! Florida Bright Futures has officially opened and it is time for you to apply. Please go to www.FloridaShines.org to log onto your FLBF account. Juniors and Sophomores, you may also log onto FloridaShines to determine your current eligibility. This will help you plan out your goals towards community service, GPA, courses, and SAT/ACT test scores.
——————-
PSAT score reports are only available online through the College Board at this time. BTHS will not receive score reports until January 29th. Individual schools do not have anything to do with the online reports. If your child provided an email address when they took the test then you should be able create an account for viewing. Please visit this website for more information https://collegereadiness.collegeboard.org/psat-nmsqt-psat-10?navid=gh-pn
——————-
FIELD OF DREAMS — Information —  Registration Flyer
———————
Become a Sponsor … BTHS Auditorium Enhancement Campaign to Benefit the BT Auditorium    DETAILS CLICK HERE