BTHS Website Header Photo/Design Credit: AP Photography Students (Devan H, Madi S, Cole N, Victoria V & Kirsten J)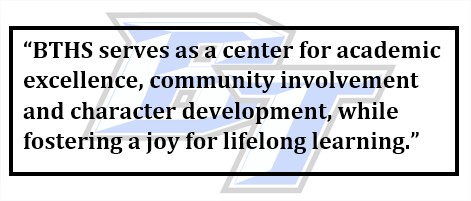 ---
Rising Seniors (c/o 2017!) Applying for college and financial aid: what you need to know for summer! 
Tuesday, 4/26 at 8:00am in the 9th Grade Cafeteria.
Parents are encouraged to attend this information session. Parents: you do not need to sign-in at the front desk, please park behind the 9th grade cafeteria and report directly through the back doors. We look forward to seeing you! 
---
 Calling All Applicants!
A Superintendent Search Citizens Advisory Committee will be created to assist in the review of applicants based on the district's qualifications and public feedback. Community members interested in serving on this committee are requested to submit an application. The application must be postmarked or submitted by close of business Monday, April 25 and is available online on the district's website at: 
http://www.stjohns.k12.fl.us/supt-search/
---
Let your voice be heard!  Participate in the annual SAC survey.  Click on the appropriate link below:
– Survey for Parents
– Survey for Students
---
Parents: School Board approved instructional materials have been posted for your review.  Click Here to view.
Course registration for the 2016 – 2017 school year is currently occurring! To help assist you with the course registration process, please utilize the resources below:
– CLICK HERE>> 2016-2017 Registration Presentation
–  CLICK HERE>> 2016-2017 8th Grade Parent Night Academic Presentation
– CLICK HERE>> 2016-2017 BTHS Course Catalog
– CLICK HERE>> 2016-2017 Course Progressions
– CLICK HERE>> 2016-2017 Course Elective Worksheet
– CLICK HERE>> 2016-2017 Freshmen Course Elective Worksheet
– CLICK HERE>>  BT AP Scholar Progression
---
---
FIELD OF DREAMS — Information —  Registration Flyer
---
Become a Sponsor … BTHS Auditorium Enhancement Campaign to Benefit the BT Auditorium    DETAILS CLICK HERE