BTHS Website Header Photo/Design Credit: AP Photography Student Victoria V. & Digital Design 2 Students Andrews P. & Valerie T.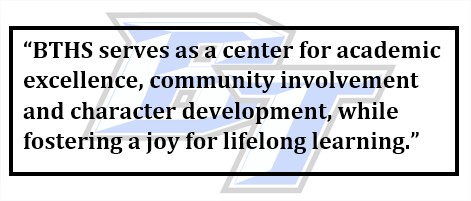 ---
BT HOLIDAY TREE CONTEST
sponsored by Old Town Trolley Tours and INK (Investing in Kids)
CLICK HERE TO VOTE FOR THE BT AVID PROGRAM
VOTING ENDS 12/20
---
2018-2019 SCHOOL MESSENGERS
December 3: Parent Drop Off and Pickup Reminder
November 19: End of 1st Semester Timeline
November 19: School Counselor Update (November)
October 8: 2018-2019 PSAT Reminder
October 1: 2018-2019 REMINDER Financial Aid Night
September 18: 2018-2019 REMINDER! School Counseling Information
September 4: PSAT-NMSQT REMINDER
August 28: 2018-2019 Bear Nation Club Fair
August 22: 2018-2019 Bear Nation Open House
August 21: 2018-2019 PSAT-NMSQT Information
August 20: Start of School Year – School Counseling Information
August 16: Blitz Day! Schedule
August 15: Start of School Year – Attendance Information 
August 14: Start of School Year – Housekeeping Items
August 9: Start of School Year – First Day!
August 8: Start of School Year – Transportation
August 7: Start of School Year – District Letters
August 6: Start of School Year – Forms
July 30, 2018: Start of School Year – Upcoming Dates

---

---
NEW TO BARTRAM TRAIL HIGH SCHOOL?
Sign up for a registration appointment.  Contact Ms. Kathleen Richards via phone at (904)547-8342.  If you have any questions, please email [email protected]. Please also see the paperwork below to help assist your transition to Bear Nation!
2018-2019 Pre-Registration Packet
2018-2019 Scheduling_Summer Registration Course Sheet

---
---
---
Didn't order your yearbook pictures, order them online: http://cadystudios.com/
See the yearbook link for additional information and reminders
---
PARENT PICKUP INFORMATION!
Parent Pickup Maps
Parent Pickup School Map
Parent Pickup: Auditorium Map
---
Parents: School Board approved instructional materials have been posted for your review.  Click Here to view.
---