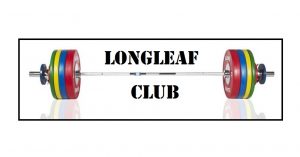 For information regarding "Longleaf Barbell Club" Olympic weight lifting, refer to the following link:
CLUB SEASON:  Mid-February to Mid- October [ 8 Months ]
Club Philosophy: Develop Olympic weightlifting athletes that are driven to become National and Internationally competitive lifters. 
Club is designed to help foster competitive athletes in the Snatch and Clean & Jerk.
Our coaching philosophy is to develop efficient technique and help Athletes reach their full potential.
Contact:  Coach Reagan [usaw certified / club director]
email: [email protected]