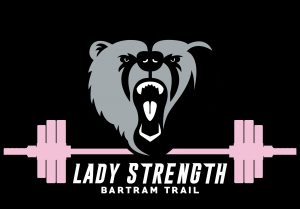 NEWS & EVENTS
Sept 28, 2020
Pre-season Workout begin Today!  You must be cleared by Athletic Clearance to participate.  You cannot workout if you are pending.
Workouts are Monday and Thursday [9/28, 10/1, 10/5, and 10/8]  4:15 – 5:15 pm
Try-outs are Oct. 12 & 13 [you must be cleared by Oct. 9th to Try-out]
See Coach Reagan if you have questions
Sept. 15, 2020
I know many of you are anxious to get started on another exciting GWL season.
However, due to covid concerns, Fall sports have been the priority.  Therefore, we will have an organizational meeting on Thursday, Sept. 24.
This will be held in N126 [Coach Reagan's classroom] at 8:45 am.  We hope to start pre-season training the 1st week of October.  Season is set to begin October 12th.
Make sure you have registered on Home campus, and HAVE been cleared to participate.  https://www.athleticclearance.com/ 
Fill out the following form prior to the Meeting.     2020 GWL Form
May 28, 2020
There will NOT have a weightlifting camp at Bartram Trail this summer.
However, there will be training through the usaw club that meets at Bartram.
If you are not currently a member of "Longleaf Barbell Club" or are interested in club training,
Please contact Coach Reagan for details at [email protected]
We are anticipating beginning club training on Monday, June 15th.
May 28, 2020
Hope everyone is doing well.  We are planning to have a very brief celebration in late June or early July.  This will be determined by the CDC guidelines for reopening the schools.  The objective is to gather and receive letters and pins for the 2019/2020 season.
Updated information will be posted here.
March 27, 2020
Unfortunately, we had to suspend the end of the year celebration.  With the school being closed until April 16 [or later] we cannot meet on campus.  The thought of having it off campus, would not work with the CDC restriction of 10 or less people.  Therefore, our hope is to have the Celebration when school resumes.  It will be on campus, and on a Sunday afternoon at 2 pm.  Please keep checking back for more information.  Until we can meet, stay safe, continue training at home.
Mar 5, 2020
End of year Celebration is Sunday, March 29, 2020 at 2pm in Big Cafeteria.  If you have not returned your singlet … it is overdue!
Please RSVP to Coach Reagan by Monday, March 23.  See you there!
Feb. 17 2020
Our 4 ladies did a Great job of competing at State Finals.  Tyller Bauer finished 3rd in the 119 weight class.  Kaylee Coughlin finished 5th in the 119 weight class.  These were Medal finishes.  Sophia Lomax had a 3 PR day, and tied for 6th place in the 169 weight class.  However, she finished 7th by body weight.  Sydney Yorton truly competed to post a total.  Great effort by Sydney while battling the onset of sickness.
Couldn't be more proud of this group.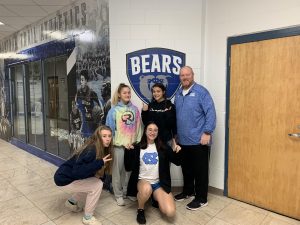 2020 GWL State Meet will be held on Feb. 14-15 in Panama City Bch. 
At Arnold High School. 
2 February 2020
Regional Runner-up Team Award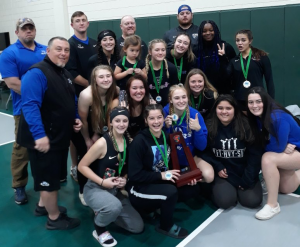 11 ladies traveled to Flagler Palm Coast for the Regional Meet.  Several new PR's were set during the meet.
2 new Program Records were set at the Regional meet.  1 Regional Champion, and 3 others ladies qualified for the State Meet.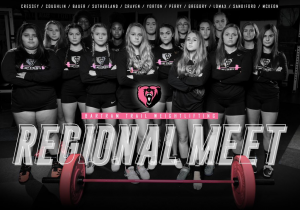 26 January 2020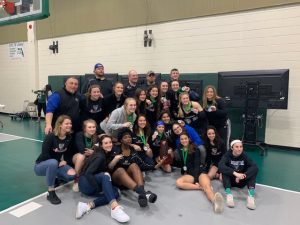 Congratulations to Lady Strength for being the 2020 District Runner-up Team Award.
Great effort by the entire team.  Many new PR's were set at the meet on 23 January.
The following 11 ladies will travel to the Regional Meet on 1 February at Flagler Palm Coast HS.
Nina Cressey, Kaylee Coughlin, Tyller Bauer, Elle Sutherland, Sydney Yorton, Mia Craven, Julia Perry, Sam Gregory, Sophia Lomax,
Faith Sandiford, and Grace McKeon.
Good Luck Ladies!
15 January 2020
The District List was posted at practice today.  If you were not on the list, today was your last practice.
Keep checking back for date and time of the "End of Year Celebration"
Thanks for a Great Season!
14 January 2020
Outstanding night of lifting on Monday.  Very proud of our seniors.
Awesome venue for senior night.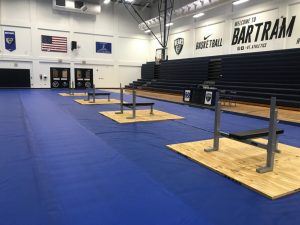 12 January 2020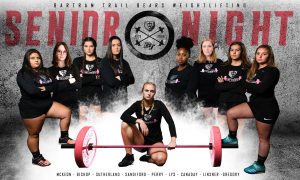 Very excited to host Palatka High School for our 2020 Senior Night.
Lifting will begin at 5:30 pm in the BT Gym.  There will be an admission for parents [$5]
Hope to see you come out and support our ladies.
13 December 2019
Two Great weeks of Lifting.  20+ new PR's were set.  Many girls placed at the County / Conference Meet.  Several ladies set triple PR's.
3 new Program PR's were set at the conference meet.  Holiday training schedule is now in effect.
We WILL train on 23/24 December and 2/3 January.  Time:  10am-12 N
District Meet is 23 January at Flagler Palm Coast HS.
25 Nov 2019
Training has been going very well.  Many New 3 Rep Front Squat Max were achieved on Thursday, Nov 21.
Very Proud of the Effort.
Next Meet is the County / Conference Meet at Pedro Menendez HS on 4 Dec 2019.
Weigh in at 2:30 pm / Lift begins at 4 pm  [ Check weekly Comp page for Conference Meet Roster]
20 Nov 2019
Meet at Flagler Palm Coast HS.  This was a Base Training Meet.  Emphasis on technique and meet procedures.
Great Effort by Lady Strength!  Final Score: FPC 57 Lady Strength 40 Pine Ridge 12
13 Nov 2019
Middleburg Meet.  Again many ladies hit new PR's.  Very exciting to see the early successes!
Final Score: Lady Strength 47 Middleburg 26  Nease 7
7 Nov 2019
Great Effort by many of the ladies at the Oakleaf Meet.  Several PR's were set.
Final Score:  Lady Strength 49 Oakleaf 43
6 Nov 2019
1st Meet of the season at Oakleaf HS / Lift time is 5 pm in weight room
See you there!
October 28, 2019
Ladies the online store is now open
Pay close attention to when it closes.  ONLY OPEN UNTIL Nov. 4, 2019 [1 WEEK}
October 21, 2019
Thank you to all of the parents that came out to the meeting.
Wanted to be clear with the Fee deadline, Pay to Play and Booster Memberships are due by Nov. 1, 2019.
The booster membership can only be done online.  LINK Below.  If you would prefer, send checks only to Coach Reagan at practice.
Look forward to the journey ahead.  Can't wait to see your grow as lifters and compete for "Lady Strength"
Coach
10/20/2019
Monday, October 21, 2019 a MANDATORY Parent Meeting will be held in Coach Reagan Classroom.
9th Grade Cafeteria at 6:30pm
[Victory With Honor, Team Fees, schedule, Team expectations are a few of items that will be discussed ]
Oct. 17, 2019
Very excited about the 2019-2020 GWL Team!
Try outs went very well.  I want to thank ALL the ladies that attended.
The 2019-2020 Roster has been posted on the Roster page.
Congratulations to all the Girls that are on the Team, if you did not make the Roster.
Please keep training!
Oct. 9, 2019
Pre-season training has come to a close.
We will hold try-outs Monday, Tuesday, and Wednesday [Oct 14-16]  If you intend to join the GWL team, you must attend each day of try-outs.
Special Note:  Wednesday is PSAT test day.  You must attend school to attend try-outs on Oct. 16!
It would be very helpful for you to email me both athlete and parent's email address by Monday, Oct. 14.
There is a financial obligation to join the team.  These fees will only be due if you are added to the Team Roster.
Fees are; $100 pay to play [BT Athletics]  Minimum $75 family membership to BT Booster Club.
If  you have questions or concerns, please contact me at [ [email protected] ]
Coach Reagan
Sept. 20, 2019
Pre-season conditioning has begun.  The official opening of the 2019-2020 season is 14 October.
TRY-OUTS will be Held; Monday / Tuesday / Wednesday Oct. 14-16 in the weight room immediately after school.
You MUST be cleared by Home Campus BEFORE Friday, Oct. 11, 2019 to Try-out.
NO EXCEPTIONS!
See Coach Reagan if you have questions.  Room N126
Sept. 5, 2019
Excited for the upcoming season.
Informational Meeting Regarding Pre-season and Try-outs
Tuesday, Sept. 10  at 4:00 pm in Room N126 [Coach Reagan's Classroom]  
ALL ATHLETES must use the following link to obtain Athlete Clearance.  This has replaced [Register my athlete]
https://www.athleticclearance.com/
This must be completed before you can Workout. [NO EXCEPTIONS!]
Please listen to announcements regarding times, place.
Pre-season Training will begin in September.
Season Begins Oct. 14 at 4 pm, BT Wgt Room
Contact Coach Reagan if you have questions.
Click Weekly / competition information LINK at RIGHT for Current  information 
You must follow link below to "REGISTER MY ATHLETE" for Pre-season participation.
Athlete online registration [https://www.athleticclearance.com]

Follow BT Girls Weightlifting on Twitter @coachinBTgirls
FEATURE LIFTER [Jasmine Powell – STATE CHAMP]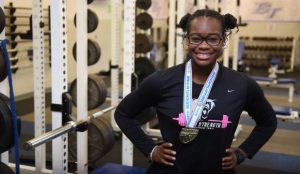 2017 St. Augustine Record "Girls Weightlifting" Lifter of The Year [Link to article]
Jasmine Powell [183 LB / 90 Kg Weight Class]
Senior, 2nd year Lifter
First "STATE CHAMPION" in Program History
2017 – District / Regional / State Champion [380 Total]
Clean [unofficial] State Record 235lbs
2016 State Qualifier, 9th place – 315 total
ALL TIME Program Clean&Jerk Record 225 lbs