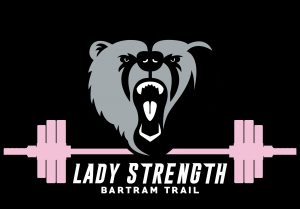 NEWS & EVENTS
January 17, 2021
Info for week of 18 January to 22 January:
Practice times this week; Monday, 18th = 9 am / Tuesday, 19 = 4:10 pm / Thursday, 21 = 4:10 pm
NO PRACTICE ON WEDNESDAY, 20TH
Vans will leave Bartram at 6:35 am on Friday, Jan. 22nd.
Speak directly to Coach Reagan if you have any issues, prior to Thursday.
Ladies Be Great at Districts!
January 15, 2021
Reminder:  Practice at 9am on Monday, Jan. 18, 2021
District Meet is Friday, Jan. 22.  Attendance is Mandatory!
11 Jan 2021
What a Great Effort by All our Ladies tonight.  15 PR's were set at Senior Night 2021.
Very Proud of the product that the Ladies put on the Platform tonight.
The following ladies will continue practicing until the District Meet on Friday, Jan. 22 at Oakleaf
If you are not on the list, your season has ended.  We will see you at the End of Year Celebration.  Look for an email or information on this site.
10Jan2021
Senior Night is MONDAY, Jan. 11th at Bartram Trail Gym.
Lifting begins at 5:30pm
GoFan Here is the Link and is currently live.
225 max capacity / Digital Ticket and Mask required
6 Jan 2021
Excited to be back in the weightroom!
TODAY: Meet at Creekside  Lifting begins at 4pm
NO SPECTATORS due to COVID protocols.
26 Dec 2020
Due to a Covid Exposure Precaution
We Will Quarantine the Team until January 3rd.
Therefore, there WILL NOT BE TRAINING; Dec. 28, 29, 30
We will return to normal training on Monday, Jan. 4th, 2021
11 Dec 2020
Here is the Holiday Training times for Winter Break.
Mon / Tue / Wed.  Dec. 21, 22, 23, 28, 29, and 30 from 9am – 10:30am
Attendance is Mandatory.  HAPPY HOLIDAYS from BT GWL.
2 Dec 2020
2020 SJRAC Champions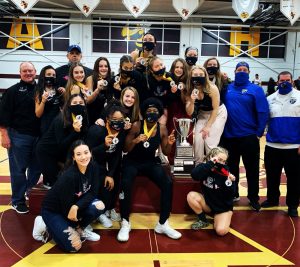 So Proud of these ladies.  Great effort at the SJRAC meet held at St. Augustine HS on Dec. 2nd.
Several new PR's and program records were broken at the meet.  Can't wait to see the District Meet at Oakleaf on 22 Jan. 2021.
Congrats Ladies!
29 Nov 2020
Very excited to see "Lady Strength" compete at the SJRAC meet on Wednesday, 2 Dec.  The meet will be held at St. Augustine HS
Weigh in at 2:00 pm.  Lifting begins at 3:30 pm
I will be adding the GoFan link after Monday, 30 Nov.
Ladies will get out of class at 12:55pm [end of 5th period]  Off campus athletes should arrive at BT by 12:55 pm.
We will leave at 1:10 pm.  Thanks for being on time.
Contact Coach Reagan if you have questions.
19 Nov 2020
The following ladies will compete in the Conference Meet on Wednesday, 2 December.
Site: St. Augustine HS
Weigh in: 2:00 pm
Lift: 4:00 pm
12 Nov 2020
We will have practice at regular time, TOMORROW 13 November at 4:15pm
NO EXCUSES!
9 Nov 2020
Reminder to check Weekly / Competition information page for updates! [ATHLETE's]
Parent Corner for updates.
October 29, 2020
We will NOT train on Tuesday, Nov. 3rd!  It is a planning Day [No student class], However they will be sanitizing various areas of the school.
We still have a meet at St. Augustine on Wednesday, Nov. 4th.  Bus leaves close to 2:30pm.
October 22, 2020
The GWL online store is open until Oct. 31.
Here is the link  BT GWL 20
October 14, 2020
The coaching staff would like to thank all of the girls for your interest in the BT Girls Weightlifting.
Your effort at try-outs has been appreciated.  Unfortunately, we are unable to find a spot for some of you on our roster.
The decision was a difficult one, but I encourage you to continue training.
If you would like to come by and discuss this decision, I look forward to speaking with you.
Thank you again for trying out.
Coach Reagan
For the young ladies that find their names on the roster …. check link to right
Congratulations! 
The coaching staff is pleased to welcome you as a member of the Girls Weightlifting Team.  Your hard work during try-outs has earned you a spot on the Team.  With this honor comes a great deal of responsibility, along with high expectations.  Your attitude and dedication will determine the success of our team.  We are looking forward to a successful weightlifting season.
Practice begins at 4:15 pm on Thursday, Oct. 15, 2020 in the weight room.
Remind Parents of MANDATORY meeting, Tuesday, October 20 at 7:00pm as a Zoom call.  More information to follow.
Oct. 10, 2020
I am very excited for Try-outs on Oct. 12th.  Please follow these guidelines Monday and Tuesday ….
Bring your face covering
Bring your own bottle of water
Bring backpack / personal bag to wgt room for security
If you are not feeling well, text or email coach prior to practice.  DO NOT SHOW UP!
thanks … Coach Reagan
Oct. 8, 2020
Many returning lifters are still not cleared on Home Campus.  The deadline for clearance is Friday, Oct. 9th.
You will NOT be able to try out if you are not cleared.
See Coach Reagan if there is an issue.
Sept 28, 2020
Pre-season Workout begin Today!  You must be cleared by Athletic Clearance to participate.  You cannot workout if you are pending.
Workouts are Monday and Thursday [9/28, 10/1, 10/5, and 10/8]  4:15 – 5:15 pm
Try-outs are Oct. 12 & 13 [you must be cleared by Oct. 9th to Try-out]
See Coach Reagan if you have questions
Sept. 15, 2020
I know many of you are anxious to get started on another exciting GWL season.
However, due to covid concerns, Fall sports have been the priority.  Therefore, we will have an organizational meeting on Thursday, Sept. 24.
This will be held in N126 [Coach Reagan's classroom] at 8:45 am.  We hope to start pre-season training the 1st week of October.  Season is set to begin October 12th.
Make sure you have registered on Home campus, and HAVE been cleared to participate.  https://www.athleticclearance.com/  you must use the following form EL2
Fill out the following form prior to the Meeting.     2020 GWL Form
Click Weekly / competition information LINK at RIGHT for Current  information 
You must follow link below to "REGISTER MY ATHLETE" for Pre-season participation.
Athlete online registration [https://www.athleticclearance.com]

Follow BT Girls Weightlifting on Twitter @coachinBTgirls
FEATURE LIFTER [Jasmine Powell – STATE CHAMP]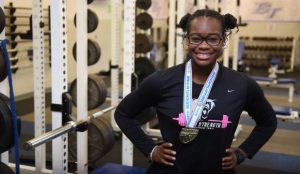 2017 St. Augustine Record "Girls Weightlifting" Lifter of The Year [Link to article]
Jasmine Powell [183 LB / 90 Kg Weight Class]
Senior, 2nd year Lifter
First "STATE CHAMPION" in Program History
2017 – District / Regional / State Champion [380 Total]
Clean [unofficial] State Record 235lbs
2016 State Qualifier, 9th place – 315 total
ALL TIME Program Clean&Jerk Record 225 lbs