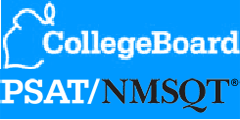 PSAT
Wednesday, October 13th, 2021
The PSAT/NMSQT will be offered on the BTHS campus for all zoned BTHS students, this includes SJVS, FLVS and Home Education students.
All 10th grade, BTHS students will be automatically scheduled to take the PSAT, and scores will be reported at no charge.
Any 9th or 11th grade BTHS student, and all 9-11th virtual/home education students wanting to take the PSAT, will need to sign up and pay a $22.00 registration fee.
Registration is available through School Pay.
Registration deadline is September 13th.
Students need to bring their own pencils, approved calculator, water, and snacks for testing day.
2021 PSAT Testing Rooms       PSAT 2021 Bell Schedule
ACT_SAT_PSAT_AP_Accommodations Deadlines updated 8_14_21
PSAT Resources and Practice Test
---
For testing site information regarding the ACT and SAT please contact Aretha Graham, ([email protected])
or visit the guidance page at
http://www-bths.stjohns.k12.fl.us/guidance/
---