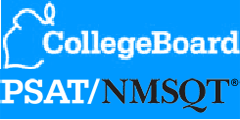 PSAT
October 12th, 2022
The PSAT/NMSQT will be offered on the BTHS campus for all zoned BTHS students, this includes SJVS, FLVS and Home Education students.
All 10th grade, BTHS students will be automatically scheduled to take the PSAT, and scores will be reported at no charge.
Any 9th or 11th grade BTHS student, and all 9-11th virtual/home education students wanting to take the PSAT, will need to sign up and pay a  registration fee.
Registration is available through School Pay.  Registration fee is $22.00
https://www.schoolpay.com/link/PSAT2022
Registration deadline is September 11th.
Students need to bring their own pencils, approved calculator, water, and snacks for testing day.
2022 PSAT Testing Rooms      PSAT 2022 Bell Schedule
ACT_SAT_PSAT_AP_Accommodations Deadlines updated 8_14_21
PSAT Resources and Practice Test
ACT District Testing
Tuesday, March 28, 2023
All 11th grade students will have the opportunity to take a College Reportable ACT on Tuesday, March 28th, 2023.  This test administration will be free to all 11th grade students.
PLEASE NOTE THAT SCORES WILL BE VISIBLE ON STUDENT'S HIGH SCHOOL TRANSCRITPS.
Test registration is not required, all 11th grade students will automatically be scheduled to test.
11th grade students do need to fill out some non-test information prior to March 1st.  Students received an individual letter with instructions for completing this information.
ACT-CR_NontestInformationOnlineTestingForm
Students need to bring the following items on test day–
A Photo ID (Student/School ID, Driver's License, FL State ID), students will not be admitted to testing room without a valid photo ID
Pencils and Calculator
For students with a 504 Plan or an IEP, accommodations need to be requested and approved.  Please fill out the Accommodations Consent form link below, and turn it in to your School Counselor by Wednesday,  December 21st, 2023.
TAA-Consent-to-Release-Information-to-ACT
If students need to check out at the conclusion of ACT testing, normal check out procedures will apply.  Students will only be allowed to leave campus if the early check out form has been completed
EARLY CHECK OUT – BARTRAM TRAIL HIGH SCHOOL 2022-2023
---
For testing site information regarding the ACT and SAT please contact Aretha Graham, ([email protected])
or visit the guidance page at
http://www-bths.stjohns.k12.fl.us/guidance/
---