Class of 2018 Graduation Cords Colors
Twitter- @BartramTrail is the Official Twitter feed of Bear Nation.  Follow us for updates!
Senior Dues-$45 per student. Dues can be paid on SchoolPay by clicking here. Senior dues are used to cover a myriad of costs associated with your students' senior year.  Items that are covered by the dues include (but are not limited to): the rental of UNF Arena for both graduation and graduation rehearsal, diplomas, diploma covers, graduation programs, interpreter(s) for the ceremony, flowers, decorations, graduation tickets, security and the t-shirts the seniors receive in the fall.
Pictures for Video Board at Graduation- The 2018 Senior Class Officers are looking for pictures for a video montage that will be played before the graduation ceremony.  Please submit pictures to [email protected].
Jostens Delivery Days- Jostens will make one last delivery on April 25th. This is for students who had not paid for graduation items before the Delivery Days.  Items must be paid in full prior to this date for the order to be left at BTHS.
Click here with any questions regarding graduation items http://www.rhodesgraduation.com/faqs . Other questions can be directed to RGS-Jostens (904) 272-7419 or email [email protected]
Parking Spot Paint Cover Up- Saturday, May 5th, 8am. Cover painted parking spots. Mark your calendars! All seniors who have a painted parking spot must attend the cover up day. A fine will be assessed to any student who does not cover-up (or arrange for someone to cover-up) their spot. See Mrs. Gregory with any questions.
Senior BBQ & Time Capsule– May 7th at BTHS.  See Daniella Sinofsky with questions!
Senior Final Exam Schedule-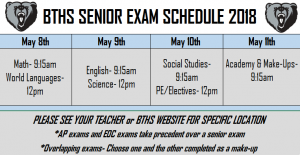 Class of 2018 Baccalaureate-Wednesday, May 9th, 6:00 p.m. San Juan del Rio Catholic Church. *Wear gown, not cap. This is a Senior Class Officer organized event. Please contact any of the officers with questions.
Senior Awards Night– Monday, May 14, 2018, 6:30 p.m. in the Auditorium. Any senior who has been awarded a scholarship from a college/university or organization, whether or not they accept it, are encouraged to bring a copy of the official notification to Guidance. Deadline to submit scholarship information in order to be recognized at Senior Awards Night is MONDAY, MAY 7th!
Senior Debt Days– Monday, May 14th & Tuesday, May 15th 10 a.m. – 2 p.m. in the Auditorium. Each senior must be cleared of any outstanding fines, fees, text books, BTHS uniforms, ect. before receiving their Debt Day packet. Debt Day packets include, but are not limited to the following items: Immunization record, graduation seating chart (graduates seat highlighted), map of UNF, honor cords, 9 tickets to the ceremony, and more.
Graduation Rehearsal-University of North Florida Arena, Thursday, May 17, 2018 at 8:00 a.m.  Plan on VERY HEAVY traffic & long travel delays.  Park in Lot 18 only!
Graduation– University of North Florida Arena, Tuesday, May 22, 2018 at 7:00 p.m. Each Senior will receive 9 guest tickets for the ceremony. Tickets are distributed during Senior Debt Days.  New this year–We will be live streaming the graduation ceremony!  More info to come!
Transcripts: Seniors must request transcripts to be sent to colleges, NCAA, Common Application, etc. via Parchment. Thanks to our PTO, electronic transcripts are sent free of charge to almost any college or university in the country for current students. The link to Parchment can be found here: Order My Record or on the main page of the BTHS website. 
Senior Class Sponsors:  Mrs. Gregory, Mrs. Huber, & Mrs. Keating
Senior Class Colors: Blue, Black, & Silver

Class Motto: "What lies behind us, and what lies before us are small matters compared to what lies within us." Ralph Waldo Emerson
Class Song: I'll Be There For You; The Rembrandts
Class Flower: Tulip
Senior Class Officers:
| | |
| --- | --- |
| Title | Name |
| President |  Daniella Sinofsky |
| Vice President |  Kendall Sheffer |
| Secretary |  Erica Warwick |
| Treasurer |  Taylor Biscan |
| Historian |  Olivier Pageotte-Andre |