For information on testing accommodations for College Board Exams and
the ACT, please scroll to the bottom of this page.

---
ACT and SAT

—————– Prep Websites ——————
ACT: http://www.act.org/content/act/en/products-and-services/the-act/test-preparation/act-academy.html
SAT: https://www.khanacademy.org/sat

*************************

When you register for SAT and/or ACT remember to:
-Code BTHS so we receive your scores: 100809
-Send scores to colleges and/or universities you are interested in by using their codes
-Send scores to the NCAA if you will be playing a sport in college (Code 9999)

What to bring on Test Day:
-Admission Ticket
-Valid Photo Identification
-Two #2 pencils
-Calculator (make sure it is an approved calculator)
-Watch (to pace yourself during testing-optional, but recommended)
*************************
ACT Info
Recommended to take in spring of junior year
Offered at BTHS, Test Center Code 207930
$58.50 Fee (Includes Writing Portion)
$42.50 Fee (Without Writing Portion)
Registration: http://www.act.org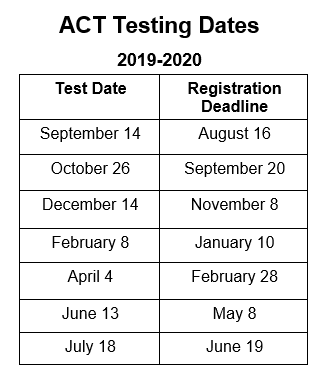 SAT Info
Offered at BTHS, Test Center Code 10614
Recommended to take in spring of junior year
$46 Fee (No Essay portion)      or     $60 (With Essay)
Registration: http://www.sat.org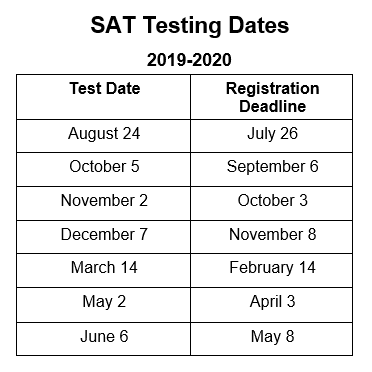 ---
*************************
AP Exam Information
Advanced Placement Exams are Administered by the College Board

They are administered to students in grades 9th – 12th who have taken an AP course during the school year for possible college credit and placement in college.

These tests are administered in May and scores are sent home in mid July.
AP Scores Online https://apscore.collegeboard.org/scores
2019 AP Tests are May 4-8 and May 11-15 by test type. Please visit AP Central on the College Board web site to determine the test date of individual exams.
https://apcentral.collegeboard.org/courses/exam-dates-and-fees/2019-exam-dates

*************************
PSAT/NMSQT – Wednesday – October 16, 2019

The Preliminary SAT (PSAT) is a test designed to help students practice for the SAT.  It is also used to determine eligibility for scholarships awarded by the National Merit Scholarship Corporation AND can be used as a concordant score for the Algebra 1 EOC (if your student did not initially pass the exam).  If you are the parent/guardian of a 9th or 11th grader at BTHS please see the details below or CLICK HERE>> to view the BTHS Testing website.
Test Name: PSAT/NMSQT
Test Date: Wednesday, October 16
Test Time/Location: 9:15am in alphabetical homerooms
Test Cost: $20 for 9th/11th grade ONLY (no cost to Sophomores)
CLICK HERE>> for information on registration and SchoolPay.
THE DEADLINE TO REGISTER IS SEPTEMBER 17, 2019 by 11:59pm…NO EXCEPTIONS!!
THE DEADLINE TO REQUEST ACCOMMODATIONS FOR PSAT IS AUGUST 27, 2019
A consent form which needs to be given to your school counselor at least
a week in advance of this deadline.
https://www.collegeboard.org/pdf/ssd/ssd-consent-form-accommodations.pdf

WHY SHOULD I PAY FOR THE RESULTS?
To obtain feedback on your strengths and weaknesses on skills necessary for college study. You can then focus your preparation on those areas that could most benefit from additional study or practice.
To see how your performance on an admissions test might compare with that of others applying to college.
To enter the competition for scholarships from the National Merit Scholarship Corporation (grade 11).
To help prepare for the SAT. You can become familiar with the kinds of questions and the exact directions you will see on the SAT.
For students who have not passed the Algebra 1 EOC, to achieve a concordant score for graduation purposes.
All students who take the PSAT/NMSQT receive access to My College QuickStart – an easy-to-use, online, personalized college and career planning kit. This useful tool incorporates the responses that you provided when you took the test.
*Please note that testing accommodations for the PSAT must be approved by Collegeboard.  Only students with Collegeboard approval will be allowed to receive accommodations.

*************************
TESTING ACCOMMODATIONS
If your student currently has an IEP or 504 Plan with testing accommodations, there is an additional separate application process for requesting accommodations for both the College Board exams and the ACT.  There are also specific deadlines for these request (check sat.org and act.org). Print and complete the form(s) below and have your student turn it in to their school counselor well before the deadline.
Also, please write on the form the date of the test for which the student is registering.
College Board exams (PSAT, SAT, AP) – https://www.collegeboard.org/pdf/ssd/ssd-consent-form-accommodations.pdf
The ACT – http://www.act.org/content/dam/act/unsecured/documents/TAA-Consent-to-Release-Information-to-ACT.pdf

If College Board and/or ACT approve your student for accommodations for a particular
test, they do not need to re-request accommodations for
any future tests they may take.