For information on testing accommodations for College Board Exams
and the ACT, please scroll to the bottom of this page.

***************************
ACT and SAT

—————– Prep Websites ——————
ACT: https://www.act.org/content/act/en/products-and-services/the-act/test-preparation/free-act-test-prep.html
SAT: https://www.khanacademy.org/sat
Click here to link your College Board
account with Kahn Academy

***************************

When you register for SAT and/or ACT remember to:
-Code BTHS so we receive your scores: 100809
-Send scores to colleges and/or universities you are interested in by using their codes
-Send scores to the NCAA if you will be playing a sport in college (Code 9999)

What to bring on Test Day:
-Admission Ticket
-Valid Photo Identification
-Two #2 pencils
-Calculator (make sure it is an approved calculator)
-Watch (to pace yourself during testing-optional, but recommended)
***************************
ACT Info
Recommended to take in spring of junior year
Offered at BTHS, Test Center Code 207930
Registration: http://www.act.org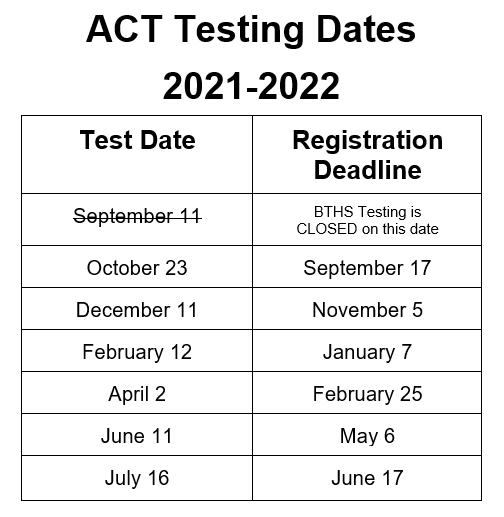 SAT Info
Recommended to take in spring of junior year
Offered at BTHS, Test Center Code 10614
Registration: http://www.sat.org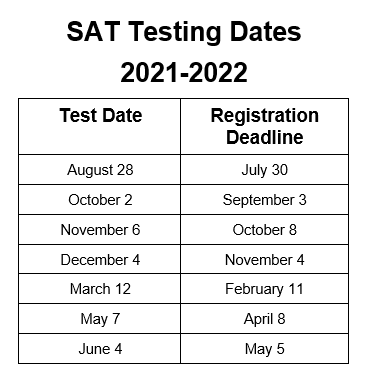 ---
***************************
AP Exam Information
Advanced Placement Exams are Administered by the College Board

They are administered to students in grades 9th – 12th who have taken an AP course during the school year for possible college credit and placement in college.

These tests are administered in May and scores are sent home in mid July.
AP Scores Online https://apscore.collegeboard.org/scores

2022 AP Tests are the last two full weeks of May by test type.
Please visit AP Central on the College Board web site to
determine the test date of individual exams.
https://apcentral.collegeboard.org/courses/exam-dates-and-fees

***************************
TESTING ACCOMMODATIONS
If your student currently has an IEP or 504 Plan with testing accommodations,
there is an additional separate application process for requesting
accommodations for both the College Board exams and the ACT. There are
also specific deadlines for these request strictly followed by College Board
and ACT. Print and complete the form(s) below and have your student
turn it in to their school counselor well before the 'request for
accommodations' deadline (see below). Please write on the form the date of
the test for which the student is registering.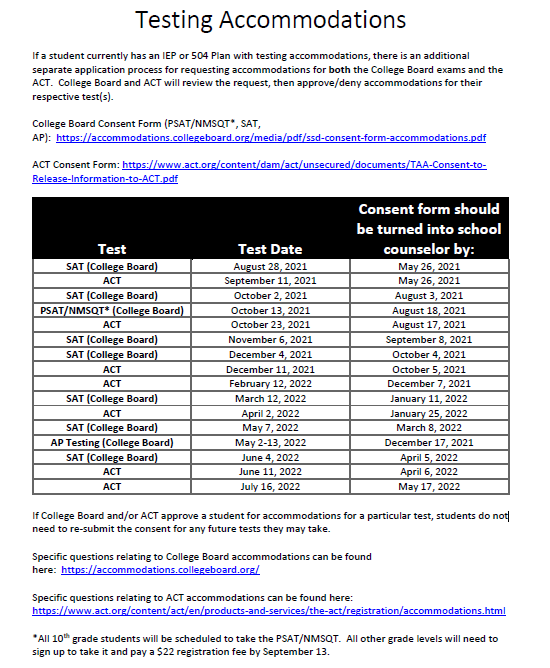 College Board exams (PSAT, SAT, AP) – SAT Consent Form for Accommodations Request
The ACT – ACT Consent Form to Release Information
Students who are approved for accommodations by College Board and/or ACT
for a specific test date do not need to re-request
accommodations for any future test(s).
Click here for important information for the PSAT on October 13, 2021