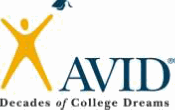 Bartram Trail High School
AVID College Prep Program
(Advancement Via Individual Determination)
AVID is a college-preparatory program designed to increase school wide learning and performance. The primary goal of the AVID program is to provide current academic success and develop future college-readiness skills for participants. Other goals include promoting and offering support in rigorous classes (i.e., Honors/AP), school activities, leadership, and citizenship.
AVID Overview
AVID is an acronym for Advancement Via Individual Determination. The program is designed to help students succeed and prepare for college.

AVID impacts more than 700,000 students in more than 4,900 schools and 28 postsecondary institutions in 46 states, the District of Columbia and across 16 other countries/territories.

AVID is a nationwide program that places students in advanced classes with a rigorous curriculum.

The program supports students who have a strong desire to improve or maintain high-level comprehension and application skills needed to prepare for the rigors of college.
AVID Curriculum
The curriculum is designed to encourage organization, time management, good study habits and college style note-taking.

By developing these skills, AVID students have a smoother transition into college and perform at a higher level (in both high school and college).

Each year during high school, students take the AVID Elective course by grade level.

Students also take rigorous core courses with AVID trained teachers.

All students will participate in college/university field trips and fun academic activities.
Contact Information: Mrs. Thompson, Email [email protected]
How to Apply to AVID:  Click the link provided – BTHS AVID APPLICATION