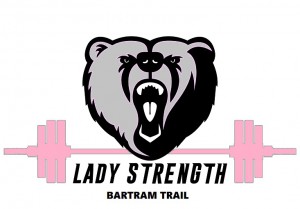 NEWS & EVENTS
Please sign up on "Register my athlete" BT Athletics Website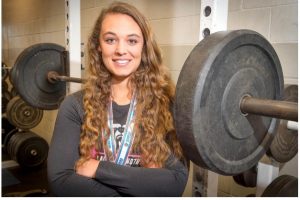 Congratulations to Savannah Parker for being named St. Augustine Record Girls Weightlifter of the Year. [link to article]
LIFTER OF THE YEAR
Savannah Parker, Bartram Trail, Sr: The FSU softball commit placed fifth at the Class 2A state meet in the 154-pound class with a total of 335 pounds, 20 pounds more than she lifted in last year's state meet. Parker is the third consecutive Bartram Trail weightlifter to be named The Record's Girls Weightlifter of the Year, following Jasmine Powell in 2017 and Emily Uruburu in 2016. Parker owns all the school records in her weight class — bench press, clean and jerk and total. She won the county title and placed third at district and fourth at region this year in the toughest district and region in the state.
2018 Record ALL-COUNTY GIRLS WEIGHTLIFTING TEAM
FIRST TEAM
101: Tyller Bauer, Bartram Trail, Fr.: Finished 11th at Class 2A state meet with a 100 bench, 125 C&J and 225 total; district champ, county-conference champ, regional runner-up.
110: Alexis Bauer, Bartram Trail, Sr.: Three-time state qualifier made the All-County first-team for the third year in a row. Placed fifth at state as a junior and was seventh this year at 130-155—285, missing out on a podium slot by five pounds. District champ, county-conference champ, placed third at region.
154: Savannah Parker, Bartram Trail: Girls Weightlifter of the Year was the only county lifter to place at the 2A state meet, finishing fifth with a 335 total. Her 185 clean and jerk was tied for the second highest in the weight class; finished fourth in extremely competitive region.
199: Lauryn Williams, Bartram Trail, Jr.: Second at region with a 135-145—280; second at district.
HONORABLE MENTION
101: Andrea Freeman, Bartram Trail
119: Sarah Kroehler, Bartram Trail
169: Noelle Heggblod, Bartram Trail
Very Proud of the Success of the 2018 GWL "Lady Strength"
End of year Celebration:  Sunday, March 4th at 2 pm in BT small cafeteria.  What a GREAT group of young ladies.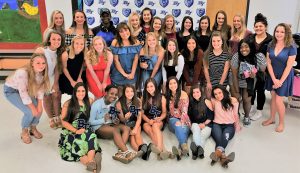 Congratulations to our 2018 State Qualifiers: 
[ 2 new PR's and 5 PR's were tied at the State Meet]
Savannah Parker – 5th place Medal – 2 time State Qualifier 
Tyller Bauer – Freshman – PR C&J 125 lb. [tied program record]
Alexis Bauer – Senior – 3 time State Qualifier –  set BTGWL record C&J 155 lb. / Total 285 lb. 
Noelle Heggblod – Sophomore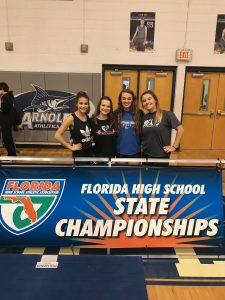 Savannah Parker now holds all of the BTGWL records in the 154 lb. Wgt. class.
Bench [155], Clean & Jerk [180], and Total [335]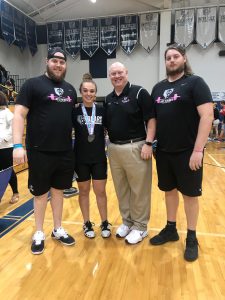 BT GWL finished 4th place at the Region 3 Meet at Spruce Creek.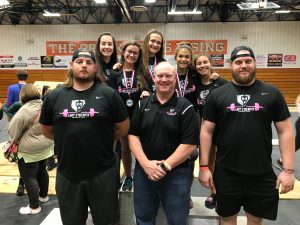 Congratulations to our [6] medalists:  Tyller Bauer, Andrea Freeman, Alexis Bauer, Savannah Parker, Noelle Heggblod, and Lauryn Williams.  Great Team Effort!  18 PR's , and 5 program records were set at this event.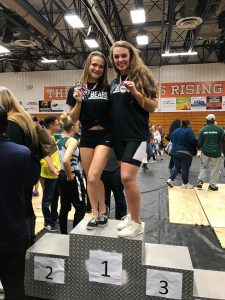 Special Congrats to the Senior Leadership shown by Alexis Bauer and Savannah Parker.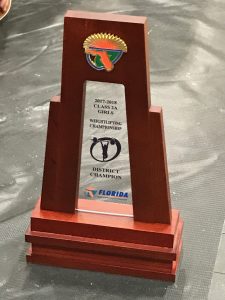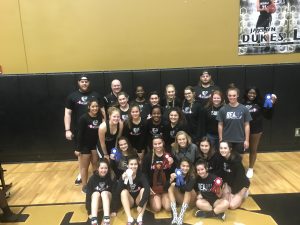 Great Job Ladies!!!  2018 District Champions
Tyller Bauer = 101 / Alexis Bauer – 110 / Lauryn Williams – 199
"District Champions" in their Weight Class 
Congratulations to the following Ladies; Tyller Bauer – 101 –  / Alexis Bauer – 110 =         County / Conference Champions
Savannah Parker -154 – County Champion / Andrea Freeman – 101 -3rd Place / Noelle Heggblod – 169 – 2nd Place /  Lauryn Williams – 199 – 3rd Place in the County Meet. 
Abby Kinchen, Sarah Kroehler,  Miranda Montgomery, and Macy Yocum earned points at the County Meet on Dec. 6 at Pedro Menendez HS.  Lady Strength set 28 new PR's at this event.
Congratulations to Several of our "B" girls that set new PR's at Final "Bars and Bumpers 3" Meet on Saturday, Dec. 16 At BT.
2017 Senior Ladies 2018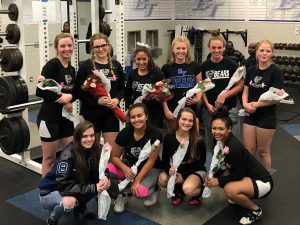 So Proud of the Leadership and Effort of these Ladies.  BTGWL is a better TEAM because of YOU!
Thank you for the LEGACY, we will miss you all!
Check the "Comp. / Weekly News" page for Important Training information
Click Week / competition information LINK at RIGHT for Current Weekly information
You must follow link below to "REGISTER MY ATHLETE" for Pre-season participation.
Check Weekly Info / Competition page for updated news / CALENDAR
Athlete online registration [http://registermyathlete.com/schools/]

Follow BT Girls Weightlifting on Twitter @coachinBTgirls
FEATURE LIFTER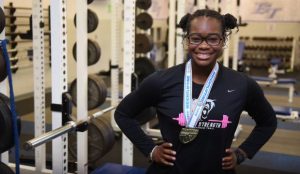 2017 St. Augustine Record "Girls Weightlifting" Lifter of The Year [Link to article]
February to June 2017
Jasmine Powell [183 LB / 90 Kg Weight Class]
Senior, 2nd year Lifter
First "STATE CHAMPION" in Program History
2017 – District / Regional / State Champion [380 Total]
Clean [unofficial] State Record 235lbs
2016 State Qualifier, 9th place – 315 total
ALL TIME Program Clean&Jerk Record 225 lbs