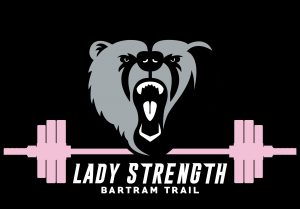 NEWS & EVENTS
6 Nov 2019
1st Meet of the season at Oakleaf HS / Lift time is 5 pm in weight room
See you there!
October 28, 2019
Ladies the online store is now open
Pay close attention to when it closes.  ONLY OPEN UNTIL Nov. 4, 2019 [1 WEEK}
October 21, 2019
Thank you to all of the parents that came out to the meeting.
Wanted to be clear with the Fee deadline, Pay to Play and Booster Memberships are due by Nov. 1, 2019.
The booster membership can only be done online.  LINK Below.  If you would prefer, send checks only to Coach Reagan at practice.
Look forward to the journey ahead.  Can't wait to see your grow as lifters and compete for "Lady Strength"
Coach
10/20/2019
Monday, October 21, 2019 a MANDATORY Parent Meeting will be held in Coach Reagan Classroom.
9th Grade Cafeteria at 6:30pm
[Victory With Honor, Team Fees, schedule, Team expectations are a few of items that will be discussed ]
Oct. 17, 2019
Very excited about the 2019-2020 GWL Team!
Try outs went very well.  I want to thank ALL the ladies that attended.
The 2019-2020 Roster has been posted on the Roster page.
Congratulations to all the Girls that are on the Team, if you did not make the Roster.
Please keep training!
Oct. 9, 2019
Pre-season training has come to a close.
We will hold try-outs Monday, Tuesday, and Wednesday [Oct 14-16]  If you intend to join the GWL team, you must attend each day of try-outs.
Special Note:  Wednesday is PSAT test day.  You must attend school to attend try-outs on Oct. 16!
It would be very helpful for you to email me both athlete and parent's email address by Monday, Oct. 14.
There is a financial obligation to join the team.  These fees will only be due if you are added to the Team Roster.
Fees are; $100 pay to play [BT Athletics]  Minimum $75 family membership to BT Booster Club.
If  you have questions or concerns, please contact me at [ [email protected] ]
Coach Reagan
Sept. 20, 2019
Pre-season conditioning has begun.  The official opening of the 2019-2020 season is 14 October.
TRY-OUTS will be Held; Monday / Tuesday / Wednesday Oct. 14-16 in the weight room immediately after school.
You MUST be cleared by Home Campus BEFORE Friday, Oct. 11, 2019 to Try-out.
NO EXCEPTIONS!
See Coach Reagan if you have questions.  Room N126
Sept. 5, 2019
Excited for the upcoming season.
Informational Meeting Regarding Pre-season and Try-outs
Tuesday, Sept. 10  at 4:00 pm in Room N126 [Coach Reagan's Classroom]  
ALL ATHLETES must use the following link to obtain Athlete Clearance.  This has replaced [Register my athlete]
https://www.athleticclearance.com/
This must be completed before you can Workout. [NO EXCEPTIONS!]
Please listen to announcements regarding times, place.
Pre-season Training will begin in September.
Season Begins Oct. 14 at 4 pm, BT Wgt Room
Contact Coach Reagan if you have questions.
Click Weekly / competition information LINK at RIGHT for Current  information 
You must follow link below to "REGISTER MY ATHLETE" for Pre-season participation.
Athlete online registration [https://www.athleticclearance.com]

Follow BT Girls Weightlifting on Twitter @coachinBTgirls
FEATURE LIFTER [Jasmine Powell – STATE CHAMP]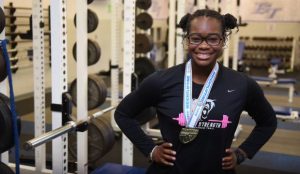 2017 St. Augustine Record "Girls Weightlifting" Lifter of The Year [Link to article]
Jasmine Powell [183 LB / 90 Kg Weight Class]
Senior, 2nd year Lifter
First "STATE CHAMPION" in Program History
2017 – District / Regional / State Champion [380 Total]
Clean [unofficial] State Record 235lbs
2016 State Qualifier, 9th place – 315 total
ALL TIME Program Clean&Jerk Record 225 lbs