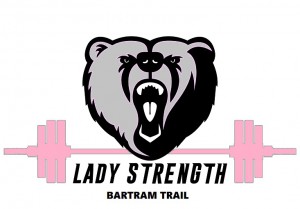 NEWS & EVENTS
Summer Camp is in Full swing.  We have had many girls already participating.  There is still space available.
Use the following link for school pay.  Checks and Cash are accepted.
https://www.schoolpay.com/pay/for/Girls-Strength-and-Agility/McXa
May 28, 2019
ALL ATHLETES must use the following link to obtain Athlete Clearance.  This has replaced [Register my athlete]
https://www.athleticclearance.com/
This must be completed before you can Workout.
Camp will begin June 3rd.  We will follow the Monday – Thursday schedule.
10-11 am will be for the new athletes or beginners.  The 11-12 time will be for returners and advanced lifters.
25 April 2019
Congratulations to Qua'liyyah Taylor for being named the SA Record Girls weightlifter of the Year.
Qua'liyyah placed 4th at the State Meet.  Earning a State Medal.
11 Feb 2019
Notifications will go out this week for the "End of Year Celebration"
DATE:  10 Mar 2019 at 2 pm in Small Cafeteria
Please return ALL Singlets to Coach Reagan
---
     CONGRATULATIONS TO THESE 3 LADIES!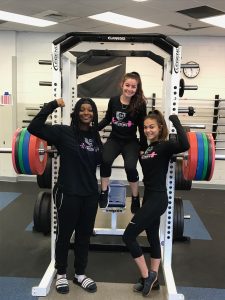 Andrea Freeman – 101 / Tyller Bauer – 110 / Qua'liyyah Taylor – 199   
qualified for the State Meet in Panama City on Friday, 8 Feb. 
————————————————————————————————————
FHSAA Regional Finals are completed, results should be posted by Wed. January 30, 2019.
That is when we will officially know the 2019 FHSAA State qualifiers.
Projected Qualifiers will TRAIN; Mon / Tue @ 4 pm [See Coach Reagan if you have questions]
__________________________________________________________________________________________________________________
2019 GWL Regional Meet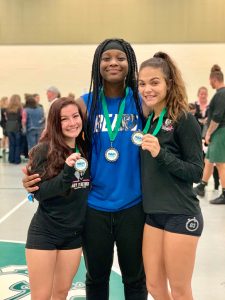 Andrea Freeman – 101 Region Runner-up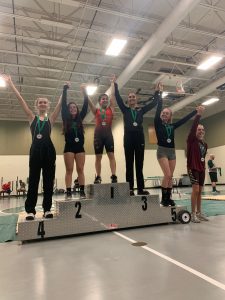 Tyller Bauer – 110 Region Runner-up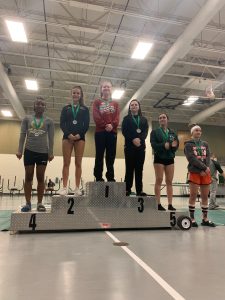 Qua' liyyah Taylor – 199 Region Runner-up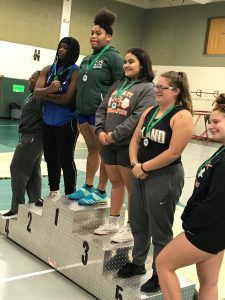 Congratulations to these [3] ladies for their accomplishments. 
They were joined by 8 other "Lady Strength" lifters.
Another outstanding meet for BT "Lady Strength", 19 more PR's were set at Flagler Palm Coast.
"Lady Strength" recorded 59 PR's in the final two weeks of the season.
Great Job Ladies!!!!
______________________________________________________________________________________________________________
So very Proud of the EFFORT by these ladies.  40 PR's set at the District Meet.  3 Weight Class Champions.
Qua'liyyah Taylor, Tyller Bauer, and Andrea Freeman District Champs.  11 Ladies advanced to the Regional Meet at Flagler Palm Coast.
Parents check the "Parent Corner" page for message from Coach Reagan.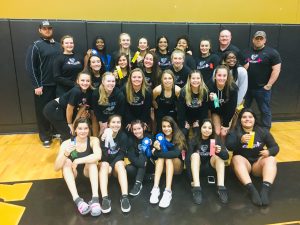 ——————————————————————————————————————
 District Meet, Thursday, January 17th at Oakleaf HS
[Lifting begins at 10:30 AM]
Bus Leaves Bartram Trail at 7:00 am DROP OFF ONLY!  Athlete's need to find a ride home.
—————————————————————————————————-
Our "B" girls completed their Season on Dec. 15th!
A Great Showing by the Girls!  43 PR's were set at the Meet.
Thank you to Nease and Creekside for making the Meet a Success!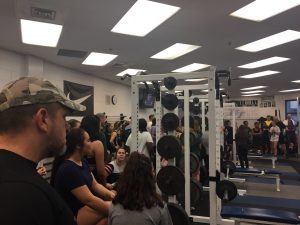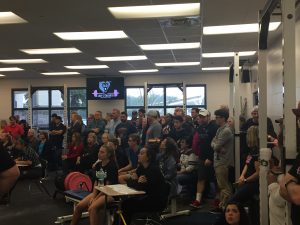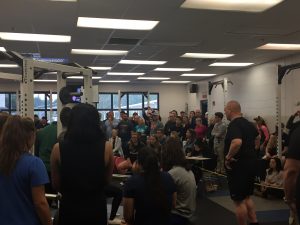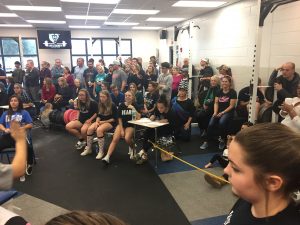 The Meet season has begun.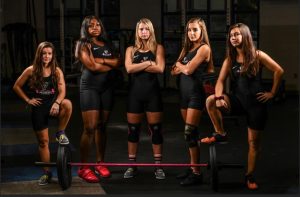 Excited to see these ladies and the other Seniors lift!
Senior Night will be Thursday, Nov. 29 at 5 pm. [ against Ponte Vedra ]
PRACTICE SATURDAY, NOVEMBER 24 @ 1 PM ["A" Team only; following Thanksgiving ] 
Lady Strength traveled to Creekside High School on Nov. 22nd.
Lady Strength traveled to Oakleaf High School on Nov. 14th.
Lady Strength is currently at a 98% efficiency in Meets in 2018.
We have attempted 414 lifts and have completed 406 successfully.
"B" team had their 1st meet on Sat. Nov. 17.  Many ladies went 6 / 6 against Nease and Creekside.
Very exciting to watch new lifters follow the process, and have GREAT Success.
"B" travels to Creekside on Dec. 1, they lift at 10 am.
Click Weekly / competition information LINK at RIGHT for Current  information 
You must follow link below to "REGISTER MY ATHLETE" for Pre-season participation.
Athlete online registration [http://registermyathlete.com/schools/]

Follow BT Girls Weightlifting on Twitter @coachinBTgirls
FEATURE LIFTER [Jasmine Powell – STATE CHAMP]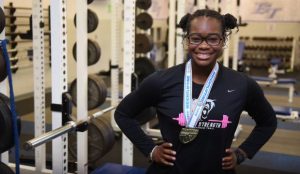 2017 St. Augustine Record "Girls Weightlifting" Lifter of The Year [Link to article]
Jasmine Powell [183 LB / 90 Kg Weight Class]
Senior, 2nd year Lifter
First "STATE CHAMPION" in Program History
2017 – District / Regional / State Champion [380 Total]
Clean [unofficial] State Record 235lbs
2016 State Qualifier, 9th place – 315 total
ALL TIME Program Clean&Jerk Record 225 lbs